I watched that documentary over the holiday break and it was not festive in any sense of the word. The
debates and arguments over the documentary
are legion but what is not of debate is that there is a problem with in how we resolve the matter. Do we do so via it through the civil courts when the statute of limitations have passed? Or through the criminal courts with all its own burden of proof and issues that have led many to walk away due to the simple reality, or
the lack thereof
, that passes as investigation in the criminal justice system.
And really are College campuses the sole ground to hunt to assault women? Ask Bill Cosby although ironically the only criminal charge he faces is from a woman whom he met at Temple University. Well maybe they are right, single bars are now Tinder so where else can a predator go to meet prey.
As we wait for more news about Cosby, another news item about the pervasive problems at an
exclusive Rhode Island Prep school th
at is becoming the next in line for a movie, as Spotlight was with regards to the Catholic Church. Why I am not shocked frankly at this point is simply when it comes to this subject I have resigned myself to the reality that we have a real fucking problem no as in fucking, as we have no concept of sex in this country and what it means to fuck in healthy honest manner.
I read Missoula last year and of course the debate about the study of rapes being 1 in 4 on a campus and the
percentage of women who are assaulted
and that most rapes are committed by serial rapists. How about that
rape cop
? Remember him crying as the bitch he thinks women are when convicted?
Let us not forget the
role of gender and race
that also affects rape and investigations. Let us not forget money which can enable many to mount credible defenses and circumvent trial by pleading to lower level crimes that will not carry the life long stigma of sex offender.
Then there is the ongoing onslaught of naysayers largely men, many of them "blawgers" or criminal defense attorneys who are sure all men are Stephen Avery before Making A Murderer. And instead of an exonerated man accused of rape and the facts manipulated by the legal system he was guilty by some misguided drunk woman who was a slut. You would think that that is there largest amount of clients when i
n reality less than 10% of rapes are reported a
nd of those even less are fraudulent but we women are just lying whores right? Ask my Attorney about that and his demand/request/whatever for a lie detector in my case. Later I apparently imagined my rapist/druggist via a bad Absinthe (no I cannot make this up). Meanwhile calls/texts were logged and noted but no one bothered despite my repeated insistence to get Verizon to comply with a court order to release them. Hey and this is to the MEN I cut a check to.
Or ask this young woman whose story
in the Marshall Project
was found to be true and her assault again by a serial rapist. (And that stat is wrong how exactly?)
Again the issue was not rape it was about the police and their inability to do their job leading to more women being raped by the same man - there is that serial rapist theory for you again.
When I read the below article I thought hey its the Hunting Grounds of Missoula. This was not news nor shocking as many rapes are in fact perpetuated by not just fraternity "bros" but athletes. Gee even high school athletes hit that training ground early in that case too. Steubenville anyone? Or how about
this more recent one.
Men you are depraved. Women you are equally confused and young and the message is clear, men are depraved and will find any excuse to fuck/rape/assault you. Yes for many they are interchangeable. Such bullshit includes, she touched me, laughed with her mouth open and/or wore a crop top. Whenever I need to remind myself what bullshit men come up with to rape I can read the crazy angry "blawgs" of that asshole Scott Greenfield and his cohorts or just go to Reddit. They can find any number of reasons but the largest is drinking in the company of men and being well out with them. Hmm, makes one think of well places of oppression. Does anyone have a Burqua I could borrow?
I used to like men and accept them for their flaws and I fucked them, plenty of them and then I had a bad sexual encounter akin to rape as it was vile and without my consent and he blamed me immediately thereafter. Case closed. And then came the night of Feb 8 2012 with a former lover who took away my right to even be indignant and then I switched all that anger on the men and women who did nothing to help me. So do I hate men? No I feel sick in your company and sorry for you.
But in reality I only need to walk down by Century Link field post Seahawk game and the thought that comes to mind: Be Afraid, Be Very Afraid.
**Since I wrote this another rape occurred but this time of a male basketball player in a high school. This is apparently part of a hazing culture and the irony is that American Crime started this week and the subject - male sports rape at a prestigious private academy where race and money are of issue. Wow life imitating art imitating life.
Reported Rapes Go Through The Roof On Game Day At Big Football Schools
College football culture is causing hundreds of reported rapes every year, new research indicates.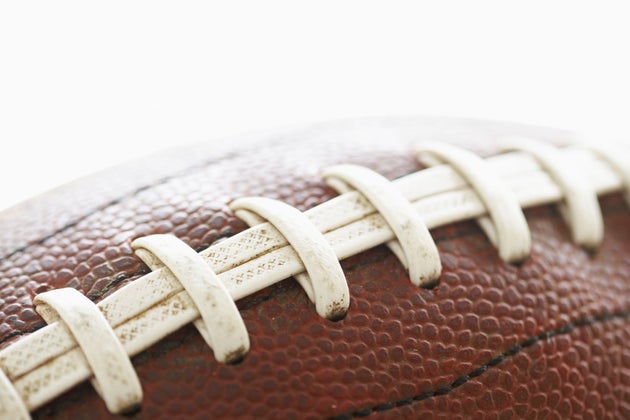 Jupiterimages/Getty Images
The main findings:
Reported rapes rise by 41 percent on the day of home football games at FBS schools.
Reports of college-aged offenders raping college-aged victims rise by 58 percent on the day of home football games.
Reported rapes in which the victim doesn't know the offender rise by 61 percent on the day of home games.
Football games appear to lead to as many as 770 rapes at FBS schools every year.
Home games at major college football schools are a breeding ground for sexual assault and are
directly responsible for hundreds of additional rapes in the surrounding area every year
, according to a new study published in the National Bureau of Economic Research.
And there's an unlikely source behind the spike in rapes: People the victims do not know.
The researchers found that rapes reported by victims ages 17-24 increase by 28 percent on days when there are football games at Football Bowl Subdivision schools. FBS schools, previously known as D I-A schools, typically field the best teams in college football. Rape reports at FBS schools increase even more on days of home games, rising by 41 percent.
The study used FBI crime data collected between 1991-2012 from 138 local and campus law enforcement agencies to compare the number of rape reports on game days to the number on non-game days. The research accounted for the number of reported rapes that usually occur on a particular day of the week or at a time of the year, which would seem to correct for much of the football season taking place during what is known as "
The Red Zone" between the start of school and Thanksgiving
, when freshman women are particularly susceptible to assault.
In total, researchers were able to analyze 96 Division I football schools -- 55 of which were FBS schools and 41 of which were FCS or Football Championship Subdivision Schools, previously known as D-1AA schools.
"What we really wanted to do in this study is to quantify the degree to which partying and alcohol consumption actually cause increases in reports of rape, and that's why we decide to investigate the effects of Division I football games," said Jason Lindo, an associate professor of economics at Texas A&M University and one of the study's co-authors.
The researchers estimate that football games could lead to as many as 770 rapes at the 128 schools that make up the FBS every year, and no fewer than 253. How far the estimate swings in either direction depends on how much you attribute the rise in reported rapes to the influx of people to the area on game day -- more people might just mean a higher chance of rape -- or to a change in behavior associated with alcohol consumption and party culture.
The increase is most apparent among college-aged adults between the ages of 17 and 24. The researchers estimated that reports of college-aged offenders raping college-aged victims rose by 58 percent on the day of home games. And while there was some evidence of an increase in rape victims between the ages of 25 and 28, almost none of the victims were between the ages of 13 and 16.
Lisa Maatz, vice president of government relations for the American Association Of University Women, was not as surprised by the report's top-line finding as she was by something else: The people said to be largely responsible for the rise in game-day rapes were offenders the victims did not know.
Researchers found that reported rapes involving an offender the victim didn't know increased by 61 percent on home game days and by 29 percent during away games. By contrast, reported rapes involving an offender the victim did know rose by 28 percent during home games and by a statistically insignificant amount during away games.
Those numbers represent a startling spike in rapes by unknown offenders, since previous studies have shown that as many as 9 in 10 college-aged women victims
know the person who assaulted them. This less-common type of rape seems much more prevalent on game days.
Researchers pointed to other signs that the increased rapes are tied directly to college football culture. Games against school rivals or prominent football programs seemed to lead to a steep rise in reported rapes, as did upset victories (notably, schools did not experience a significant rise in reported rapes when the opponent won in an upset). And while away games that were televised appeared to lead to a much smaller but still notable rise in reported rapes, this was not true of games that were not televised.
The effects were also felt much less at FCS schools, where football is a less prominent aspect of university life. There, home games appeared to lead to a 31 percent increase in reported rapes and away games had no effect. Division II and Division III games appeared to have no effect whatsoever on the number of reported rapes.
While the evidence is alarming, Maatz made sure to emphasize that this is not just a college problem or a football problem, but an American problem.
"[The problem] is just rape culture overall, and that's not exclusive by any stretch to college campuses," Maatz said. "It's an important area of research but it does not solve the problem or answer all the questions."